Annual Membership Meeting
It's that time of year again, the SCFC 503(c) corporation will hold its annual membership meeting July 14, 2019 at 6PM. If are a current voting member all you need do is appear in person to sign the official roster. If you wish to become a new member use the membership form here on the website or use the paper forms soon to be available at the friendship center by the suggestion box.
Welcome to the San Clemente Friendship Center!
Using the links in the main menu you can find meetings of AA, HA, NA,  Al-Anon, and meetings in Español.
We also offer the Big Book of Alcoholics Anonymous free in electronic form for download.
You will also find the famous Joe & Charlie recordings and the talks of Chuck C. on mp3 on our media
page.
Get Into Action
A by now famous member of SCFC has said it all when he stated, "If you're not having fun in sobriety. It's you own damn fault." Nothing could be truer. Get involved, be a part of the fellowship and you'll understand what it truly means to be an active participant in life rather than a mere observer.
Dr.Bob's Prescription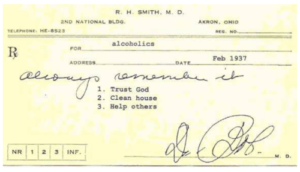 Simple enough that anyone can do it.